Why us? We measure our success by your RESULTS.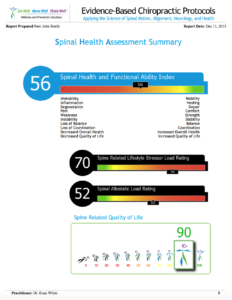 At Compass our number one goal is to help patients get well and stay well. We are committed to helping patients with ethical, evidence-based, understandable and accurate information so that the patient can maximize his or her benefits of care by making informed decisions.
We are committed to identifying the cause of your pain, loss of function, and/or loss of quality of life. Once identified we can effectively provide you with recommendations to best resolve your symptoms, restore your function, restore your comfort and your quality of life. This approach allows us to create exemplary outcomes for our patients consistently over time.
We operate from a foundational premise that pain, loss of function, loss of functional ability, and loss of quality of life is not due to random chance. There are always causes that must be addressed. The clinical goal of Evidence-Based Chiropractic Protocols is to identify and address the causes of your problems and restore your function and quality of life rather than to simply numb you to the effects (the symptoms). If you don't address the causes, how can you ever get well and stay well and prevent further damage, discomfort, and loss of quality of life?
The only way to get and stay feeling better is to get and stay functioning better. Evidence-Based Chiropractic Protocols represent the most evidence-based and most effective interventions to restore and maintain your function, your health, and your quality of life.
Why us? How we Adjust.
We are equipped to adjust all people of all ages. We care for infants, children, adolescents, adults, athletes and elderly. Due to Dr. White's unique training and experience he has the ability to care for people who have been told by other doctors they "should never be adjusted by a chiropractor" due to past injuries or surgical procedures. If you have fears or concerns please make them known. We want to make sure your experience is enjoyable and comfortable from the beginning. Our Evidence-Based Chiropractic Protocols and method of adjusting is simply the most up-to-date chiropractic option available to date.
Why us? How we determine if we can help you: Evidence-Based Chiropractic Protocols.

As a modern Chiropractic office, Compass is committed to using the most evidenced-based (research derived) protocols and reporting tools available for the purpose of communicating, detecting and addressing the cause of your health problems.
Dr. White uses questionnaires, range of motion testing, functional ability testing, spinal examination finding tools, and digital x-ray to assess each practice member to get an exact assessment of the areas of concern. Our chiropractic assessment technology establishes a reliable, scientifically valid, quantitative, holistic representation of your current condition.
This enables Dr. White to analyze a person's condition more accurately, communicate findings more effectively, and track the effectiveness of care over time at Compass Chiropractic.